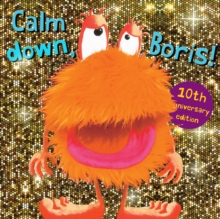 Calm down, Boris! (10th anniversary edition)
1783702753 / 9781783702756
24 cm 12 unnumbered pages : chiefly illustrations (colour)
Hand puppet incorporated into book. Originally published: 2006.
An interactive book with a difference. The reader is asked to help Boris brush his hair ready for his trip to the park - and gets smothered in grateful kisses.
The same happens when we feed him, and when he gets to the park none of the other little monsters want to play with him because he's so loud and boisterous. This special anniversary edition celebrates the huge success of Calm Down, Boris! around the world. It has continued to receive prizes and praise since its publication in July 2006.
BIC: