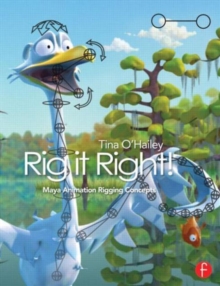 Rig it right! : Maya animation rigging concepts
0240820797 / 9780240820798
25 cm xxii, 280 pages : illustrations (colour)
Rigging a character can be a complicated undertaking.
Move from a bi-pedal character to a quad- or poly-pedal and, well, things just got real.
Where do you begin? Unlike all of those button-pushing manuals out there, Rig it Right! breaks down rigging so that you can achieve a fundamental understanding of the concept, allowing you to rig more intuitively in your own work.
Veteran animation professor Tina O'Hailey will get you up and rigging in a matter of hours with step-by-step tutorials covering multiple animation control types, connection methods, interactive skinning, BlendShapes, edgeloops, and joint placement, to name a few.
The concept of a bi-ped is explored as a human compared to a bird character allowing you to see that a bi-ped is a bi-ped and how to problem solve for the limbs at hand.
After you have moved beyond basic bi-pedal characters, Rig it Right! will take you to a more advanced level where you will learn how to create stretchy rigs with invisible control systems and use that to create your own types of rigs.
BIC: